The Final Word game review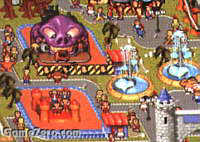 Theme Park -- Bullfrog
Think you can build the best amusement park in the world? Put yourself to the test in this new simulation title from Bullfrog Productions, Ltd. Theme Park is available now, on the Sony PlayStation.
Ferrari Man
Being a large fan of the complete "Sim" line of games, Theme Park fits into this genre perfectly. EA has created a real winner, and ported it nearly perfectly. The PlayStation handles the control of your menus excellent, and the game has a very natural flow to it. If you are a fan of real life simulators (ie. Sim City, Sim Earth...) then I highly recommend checking out Theme Park.
R.I.P.
Well... it's Theme Park... It's fun and quite addictive, and if you've played it before, you know what I mean. If you haven't played this game and you're into "Sim" style games (ie: Sim Earth, Sim City, etc...), then I'm sure you'll like this title. I particularly love all of the little sound effects that go on during play in the game.
>>>>> 40.0/50 <<<<<
Ferrari Man
R.I.P.
Graphics
4.0
3.0
Sound
4.0
4.0
Gameplay/Control
4.5
3.0
Longevity/Playability
5.0
4.0
Overall
4.5
4.0
Total
22.0
18.0
(12/95)
---
---