Fox Interactive has been busy creating several hot new games. Die Hard Trilogy is three action/adventure games on one CD. This trilogy will be released for the Sony PlayStation, Sega Saturn, and PC CD-ROM. This title will mix features from search and rescue, to arcade schooting, to a driving simulator in the same title.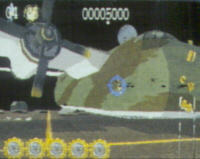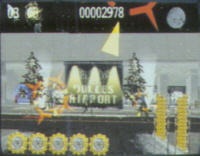 Die Hard Trilogy for Sega Saturn, Sony PlayStation, and PC
Fox also obtained the rights to do a game on HellRaiser. This title promises to be very interesting as development is continued. Other titles that Fox was showing included a Simpson's animator for the PC, The X-Files for the PC, Aliens vs. Predator for Playstation, Saturn, and PC, and Alien Trilogy based on the movies for Playstation, Saturn, and PC CD-ROM.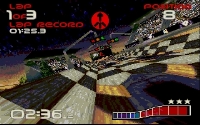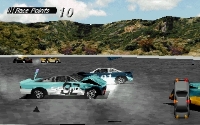 WipeOut for the PC (left), Destruction Derby PC (right)
Perhaps the best part of CES this year was actually not part of the show. Sony did not officially show their PlayStation or PC CD-ROM titles at the show, but they did have a private showing at their hotel where we spent a long time prying into Sony for information. Remember a few years ago when Blade Runner game rumors were circulating? Well, Sony confirmed that there was actually a bid for the licensing. However, after three years of trying, they lost the bid. What did become of that was the forerunner of the engine for the new upcoming game, G-Police. G-Police is a 3-D game for release on the PlayStation.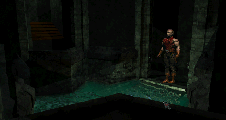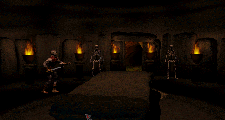 Chronicals of the Sword for PlayStation and PC
In other Sony news, the PlayStation will also see a new RPG game, Chronicals of the Sword. This walk through RPG looks promising.
On the PC front, Sony demoed Twisted Metal. They also made the shocking announcement that future PC titles will run under Windows 95 Only [Read: 'No Dos Support.'] They also showed WarHawk, WipeOut, and Destruction Derby for the PC. OS/2 users must wait a little longer for the full version of Lemmings to be released. However, Sony told us that the game is by far the best version of Lemmings for any system with features such as scaling, and a true multi-threaded multi-tasking engine.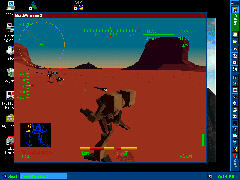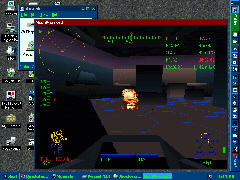 MechWarrior 2 running on Windows 95
Windows 95 was the talk in PC games. Seemingly everything was for Windows 95. Major companies like Sony Interactive (Psygnosis) announced that all of their new games are Windows 95 native, and will not run under DOS, or OS/2. The DirectX video graphics interface is a real winner in the developer's eyes. Acclaim had information on their upcoming games for Windows 95, most notable was MechWarrior 2, running under 95 native.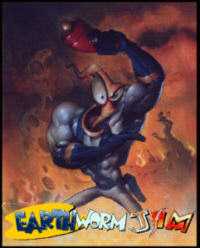 Earthworm Jim comes to the PC!
---
Go to the next part of our WCES coverage.
---
[ New Contents ]
[ Classic Contents - Articles - Reviews - Comics - Codes ]
---