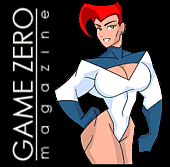 Wow! This new joystick (if it can be called a joystick) is really an exceptional piece of hardware. One of only a few 6-DOF controllers, it features optical digital technology developed for NASA. What this means to the gamer is that calibration and drift are a thing of the past, and instantaneous reaction with full 3-D control is here. The CyberMan2 has 6 Degrees Of Freedom - X, Y, Z, Pitch, Roll, and Yaw as well as eight fully programmable buttons, all easily customized through a graphical interface that lets you save individual settings for specific games. For those of us who don't want to mess around with customizations, the joystick comes with default configurations for many of today's games, and can be updated over the Internet with more defaults as games are released! Of course we are yet to see how well Logitech live up to the online updates, but I presume we can expect them to be fairly consistent until they come up with something new. Even so, the customization ability means that it will never be truly out of date.
Logitech were demonstrating the CyberMan2 with Descent II, an awesome combo. I was thoroughly impressed by the responsiveness of the controller, and how much easier it made navigating the maze of tunnels in Descent II. Since your right hand (sorry south-paws...) controls both speed and direction, it reduces the coordination necessary for complicated maneuvers like orbiting an enemy. This frees up the left hand to control all eight buttons with ease. The only downside to this controller is that if you want to kick back, it becomes a laptop controller because of its size - although I think I will be able to deal with that minor difficulty when I get my paws on one!
Pros:
Optical Precision.
High Tech Look and Feel.
Robust Feel and Design.
Ergonomic Design.
Intuitive Interface to Games.
Cool Neon Green Highlights.
Single Game Port (15-Pin) Connector, No messing around with serial and Keyboard hookups!
Cons:
It is a bit bulky - if you want to lean back and chill with a game, you'll need to set it on your lap.
Overall:
Hawkeye and I were impressed enough to each buy one on the spot!
Here's what Logitech Has to Say About It.
What Else Can We Expect From Logitech?
How about Force Feedback! That's Right folks, I raved about the I-Force Technology From Immersion last year, and now it's beginning to take off. The nice people at the Immersion Booth showed Hawkeye and me a joystick "under wraps" being made by Logitech. Let me tell you now, it put all of the other joysticks on the market to shame! Sorry Microsoft... The Sidewinder 3-D Force Feedback Pro is good, but this one felt better!